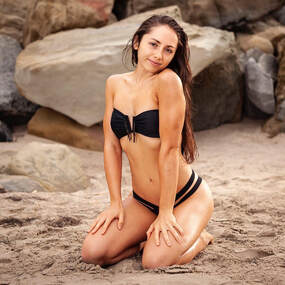 After this photoshoot in 2018, I drove to Krispy Kreme & bought 12 donuts that I didn't even enjoy because I binged on them while driving home.

I was lucky I got home safe given how fixated I was on eating the donuts.

After I got through tasting 3 of them I remember feeling so embarrassed & thought if I eat more then no one would know how many I ordered.

I was so ashamed.

I felt I failed myself. I had been prepping since 2017 & couldn't control myself in that moment.

I told myself it was my only chance because I had to keep diet super tight since I was working a booth at the Olympia the next weekend.

I didn't want to look "bad" there.

This experience really woke me up though & was a really important shift in my life as an athlete, student, & business owner though…

I realized that I stopped doing all the work I had done to improve my body image & food relationship through my prep that was NECESSARY for success post show.

So I stepped it up for myself.

That's also when I started focusing more of my research assignments & projects in school on subjects revolving around elite athletes, disordered eating, body image, mindfulness, self-concept & other related issues with application to bodybuilders & physique sport athletes (since there's not much on bodybuilders).

I realized in this time, & through the conversations I was having on the 1st "season" of Confessions of a Bikini Pro Podcast, how needed the work I was doing in the personal development world would be in the bodybuilding world.

So I launched my first bodybuilder focused program (the post-show personal development program) by sharing the exact strategies I was using to overcome post-show struggles.

I felt this intense pull to put my energy into helping this industry.

2018 showed me, through my resurfaced pain, that my mission in helping people to #BUILDMORETHANJUSTABODY , was needed among body builders.

Since then my programs have developed further & I've helped 100s of athletes, and non athletes, globally.

You can learn more about how to work with me at www.celestial.fit.

Thank you to my clients & members past & present for trusting me. It's an honor!