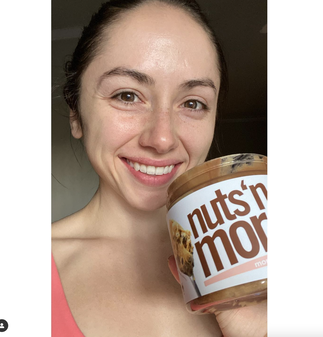 One of my clients goals (which she achieved) was to be able to have all types of food in the house without fear of binging on it (chips, ice cream, etc).

You might be thinking "l how unhealthy why would you encourage a client to eat all & any foods, especially highly palatable ones anyways?".

Well, let me ask, what's worse? Being able to have A single serving bag of chips orrr eating a whole package of 20+ bags of chips in a short period of time, elevated physical symptoms, guilt, & extreme restriction or exercise the next day?.

Binging isn't healthy, then add compensatory behaviors & it's even worse.

Often, people come to me being totally unable to have something like a fancy nut butter around.

They tell me their delivery comes & they finished all of them in 30 minutes or got so sick from it, hated themselves for it, & sprayed it with chemicals because if they don't then they'll eat out of the trash.

You might not be able to relate but this is the silent reality for many

& no it's not just because of extreme dieting or competing or working toward fitness goals despite what anti diet culture will try to tell you.

It's so important to help every individual at an individual level. One thing I always promote is the use of normalization.

BUT if not implemented with care & consideration for clients stage of change, comfort on exposure hierarchy, current / established helping behaviors such as the mindfulness based eating tools & practices provided in my program, & an approach which is conducive to establishing new associations & beliefs with the food, well then it can do more harm.

If 9 times out of 10 a client binges on nut butter, that makes the likelihood of a 10th binge fair to fear.

So when a client tells me they've gone days, weeks, months, and for some now years without a binge…that's a HUGE deal.

If you struggle to trust yourself around food or find that you can't keep certain foods in the house or you try to avoid situations where that food might be… I highly encourage you to get help.

I offer a free 7 day food relationship series at celestial.fit/foodseries and a full program at celestial.fit/foodfreedom .