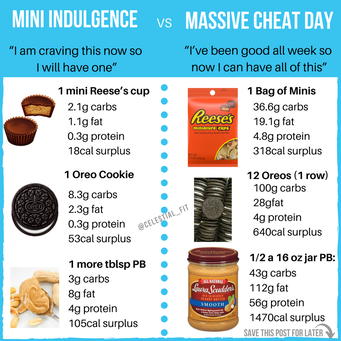 When the cravings hit it is like an automatic weapon firing warning signals that guilt will follow.

You have been thinking about the Reese's cup all day and that is all you want.

You have done all the inner work required to know if the craving is real or not.

You have gone within and discovered that yes, you really do want the Reese's and no it isn't because of any void in your life or memory from your past that you are looking to experience again.

You are faced with some choices.

1. Hold off, be good all week, and have it on your cheat day.

2. Have 1 and call it a night knowing you satisfied a craving and 1 was all you needed.

3. Have it and allow guilt to flood your system

Ugh, but having a Reese's cup is bad…I can't have an Oreo on a Tuesday night…no way am I going to have another tablespoon of peanut butter that would throw me way over on my macros!

Guilt and shame overcomes us before we even make a decision. But it doesn't have to

I remember when I first started my fitness journey I thought having a cheat meal or having a cheat day was 'all I was allowed' so I would literally HOARD my cravings up to that day and before I knew it was bingeing on a single meal eating way more than I was comfortable with because

'I was good all week and never get this stuff' or 'I can have as much as I want because it is my cheat day'

I would legit gorge on the food like it was the last time I was going to have it.

No one my size really needed to eat a row of Oreos, half a jumbo pizza, and endless chips and salsa. But I was committed. And for what?

I was never consciously aware of this problem. I thought it was the solution, the thing everyone did, the way to my best body. but damnit it was messing with my head.

Demonizing food that wasn't on my plan 6 days out of the week to then abuse my body by shoveling it down my throat in a single day.

It actually didn't become apparent to me how toxic of a mindset this was until after my very first competition in 2015 when I gained 30 pounds in 3 weeks having a full on rebound.

I asked myself what I REALLY needed.

I was guided to let go of the NEED for control, not let go of control entirely but understand and release my need for it.

I began eating more intuitively, listening to my body, and definitely stopped having 'cheat' meals or 'cheat' days. This was a VERY hard mindset for me to break.

​It took me MONTHS.

But something helped me to immediately shift this.

I know my personal values and among them is physical health, fulfillment, and peace of mind.

None of which was coming from the behaviors I had.

Knowing my values led me to ask myself what is aligned with my values, truly, for my current circumstance and needs?

I thought back to a day when I was at yard house with my family and I literally stuffed myself so full I felt sick and I would say;

'it's okay because I won't eat the rest of the day' or 'I will just do more cardio tomorrow'

and when I thought about that I remember thinking how silly it was to feel the need to fit it in ONE meal versus just eating throughout the day and treating myself when I ACTUALLY wanted to.

Then I thought about it more, one huge meal could literally throw me in a surplus, throw my body's digestion way out of whack, and mess with other aspects of my physical health.

Which then led me to the very stream of thought in my conscious reflection that was:

'one now, is better than 10 later'.

After that, I didn't have any more cheat meals or days. I started feeding my body because it deserved to be fed and if it wanted an Oreo cookie on Tuesday night, I ate it.

And so weird…I didn't die, I didn't get overwhelmed with guilt, I didn't feel like I was ruining myself. In fact, I felt like I was finally free.
Plus, now if I have a bag of something that might not be as nutrient dense, it is a very conscious choice and not because of a binge!
​
My food freedom journey felt like it was finally at its peak.

I committed to my needs for the first time, let go of preconceived beliefs and thought patterns gifted to and accepted by me from others, I let go of the need to control but honored the benefit of controlling what I need.

I spent nearly 2 years doing this along with lots of work on my body image, mindset, and other personal development.

Then I felt truly ready to get back on stage.

Yes, there is a different kind of commitment required as a competitor, especially when on prep, but to have a successful prep or improvement season fueled by love for ourselves, our relationship to ourselves and food must be a priority before anything else.

Do you know it is time for you to improve your relationship with food but you don't know where to start? Have you been stuck with thoughts about food that are draining you or keeping you from truly enjoying this lifestyle?

Contact me or DM me on Instagram and let me know what's going on for you, we will chat about your current situation, see if I can help you, then discuss how that will look.

I have two programs focused specifically on improving your relationship with food.
One is my Food Freedom Academy and the Other is my Food Relationship Journaling and Discovery Program (this one was built with competitors in mind).

Let's chat about it! I also have my 1:1 coaching programs as well. Regardless, I am here for you and if you feel called to work together, I would love to see if it is a great fit :)

I also invite you to watch this recent video I made with some of the simple and effective mealtime rituals I share within the programs and coaching I do to help improve and increase awareness about your food relationship.
---