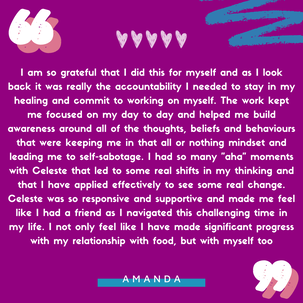 Making a commitment to yourself in one of the most challenging times of your life takes so much courage, vulnerability, and acceptance.

I am so grateful Amanda trusted me on her journey to a greater relationship with food, her body, and her goals.

When Amanda applied for my 1:1 food relationship program, she had just completed my 8 day free food relationship series so I knew she would be an action taker willing to do the work necessary to make major shifts in her mentality.

She had been struggling with binging multiple times a week that led to physical discomfort. This was concerning for her because she thought that she had gotten past this after other attempts with intuitive eating and habit based programs as well as therapy and reverse dieting.

It takes a lot to feel like you've tried so much and to still say I deserve to keep trying for myself! I admire that she signed up for my program and put her heart into it.

She showed up for herself every day and has committed to behaviors that will help sustain her personal development and progress.

Amanda is not a competitor but she knew she could use the support with respect to her fitness goals and lifestyle.

I am so proud of how far she came in such a short period of time.

I designed this 5 week program to illicit major changes and those who show up even 60% get great results, she showed up 100% and has reaped massive rewards.

In her post-program feedback form she said she only wished she implemented more of the resources sooner and more consistently which is so cool because the pace she went at and the arsenal she has now will only continue to serve her moving forward.

If you're interested in working with me 1:1 in my food relationship coaching program and getting a taste of my signature PTG process, now is the time to learn more and apply.

I will be raising my prices in the first month of the year due to additional resources, education, support services, and other meaningful upgrades as a professional & service.

Helping hundreds of people globally to #BUILDMORETHANJUSTABODY is a daily privilege.