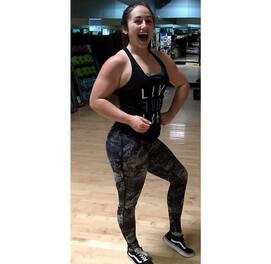 This pic sums up how my improvement season is going🤪😍💪🏻

🤗I am happy!
🍽I'm well fed!
😛I am having fun!
💪🏻I am making muscle & strength gains!
💆🏻‍♀️I'm at peace with my body and food 9.9/10!

My body loves me back and is functioning at a high level for me!
⌛️I have totally 100% accepted and embraced taking time off!
Phew! Last time I competed was September!🤯

I can't even believe it's been 5 months going on 6!

It feels so good to have everything in order.
Body, relationships, school, business, the works!

I feel like this is the period of time I will look back on and be like I am SO glad I did that!

I'm really really in full belief that time is on my side and you should all know by now I don't plan to step on stage again unless I'm way better than I was!

Last season I gained a ton of experience and momentum and I improved sooo much in a healthy and fulfilling way!

But my body still wouldn't have been highly competitive at a national level.

Dieting down / prepping more wouldn't have gotten me there either.
Building and a beak was the most logical thing to do!

I thought maybe a few months but I finally prioritized my health and feel like now my body is functioning even better!

A body with balanced hormones is able to process, recover, and function way better then one without it!

And I'm feeling that!! It feels damn good too!

Especially when the super human woman strength kicks in around the period!
Just every day I am pushing it!

Focused on more compound movements throughout the week, going up in weight, challenging myself, and creating a solid base for when I consider another prep
​
(which I've basically mapped out the shows / game plan I'd like to do if my coach and body agree with me 😜)

Still eating very clean, mixing in some treats, allowing more freedom, trying new things, just livin!

ANYWAYS! I could go on forever.
Main thing is, YOU CAN FIND PEACE IN AN IMPROVEMENT SEASON!
Your peace may look different from others and that is A-OKAY!
​
As long as you feel confident, healthy, fulfilled, empowered, strong, and aligned with your goals and actions that's all that matters!
---